2023 Grand Prize Winning Ticket #14053 (R.V.)
Congratulations Robert V., the winning ticketholder of ticket #14053, and the grand prize winner of the choice of Car or Cash!
Thank you to everyone who participated in the raffle. Your support will help Chandler Education Foundation fund scholarships for CUSD seniors! That's always a win!
Last Minute Bonus Winner!
Congratulations to J. Fladwood (18507), winner of the $500 Last Minute Bonus Visa Gift Card!
2023 Raffle Sales Now Closed
The 2023 Winner's Choice Raffle is now closed. Please join us on Facebook Live as we pull the winning ticket! Winners will be contacted by phone and email and the winning ticket number will be listed on the website following the drawing.  
---
Benefit Raffle Rules 2022-2023
Select the rules image below for a downloadable copy of the 2023 Raffle Rules.
---
What Would You Choose?
2022-2023 Winner's Choice Car or Cash Raffle
How'd you like to support students across CUSD AND have the chance to win $27,000 off the MSRP of a new 2023 Toyota or $20,000 in cash? All it takes is a ticket purchased for our Winner's Choice Car or Cash Raffle! Better yet, purchase two! 
The grand prize drawing for the Winner's Choice Car or Cash Raffle will be held via Facebook Live at 12 noon on Thursday, March 2, 2023. That's 03.02.23! This is earlier than in years past. We will live stream from the Chandler Education Foundation office (please note, we are NOT located at the CUSD District Office). Winner need not be present to win. 

Like and Follow Chandler Education Foundation on Facebook at www.Facebook.com/ChandlerEdFoundation and be ready to join us via the internet!  We can't wait to make someone's day and hope it's you! What would you choose?
A "Big" shout out to Big Two Toyota of Chandler and Toyota Financial Services for their support!
Raffle ticket purchases fund scholarship opportunities for students across CUSD. That's a win-win for everyone! When you invest in education, you invest in our future!
Questions or concerns? Please email us at ChandlerEdFoundation@cusd80.com.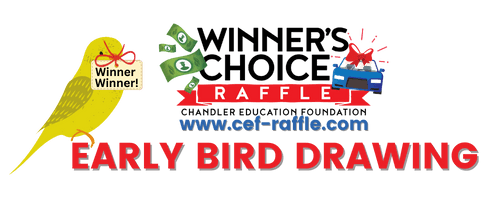 | Ticket Number | Winner | Prize |
| --- | --- | --- |
| 10309 | Chisako H. | Mingle & Graze Gift Card |
| 10371 | Jerry D. | d'Vine Gourmet Gift Card |
| 10651 | Rachel L. | Stanley Travel Mug |
| 10664 | Stephanie H. | Asus Chromebook |
| 10677 | Gracie G. | Serrano's Mexican Restaurant Gift Card |
| 10706 | Michael B. | Piexoto Coffee Roasters |
| 10732 | Jill K. | d'Vine Gourmet Gift Card |
| 10813 | Scott H. | d'Vine Gourmet Gift Card |
| 10814 | Brooke C. | JBL Portable Speaker |
| 11022 | Alix R. | d'Vine Gourmet Gift Card |
| 11202 | Kristin K. | NekTeck Back & Neck Massager |
| 11581 | Lisa G. | Massage Gun |
| 11651 | Lori W. | Nicebay Handheld Vacuum Cleaner |
| 11851 | Angie A. | Toppin Air Purifier |
| 11906 | Heather C. | d'Vine Gourmet Gift Card |
| 11912 | Angela B. | Mingle & Graze Gift Card |
| 11968 | Sarah C. | Beats Solo Headphones |
| 12050 | Silvia V. A. | Cricut Machine |
| 12126 | Amy D. | Amazon Echo Show |
| 12252 | Aaron B. | Solar Power Bank/Charger |
| 12375 | Jamie L. | Amazon Echo Show |
| 12476 | Samara H. | JBL Portable Speaker |
| 12479 | Gabriel R. | d'Vine Gourmet Gift Card |
| 12505 | Pamela W. | d'Vine Gourmet Gift Card |
| 12535 | Mary D. | Mingle & Graze Gift Card |
| 12545 | Nancy M. | Mingle & Graze Gift Card |
| 12606 | Charlene A. | Mingle & Graze Gift Card |
| 12652 | Mike W. | Sony Speaker |
| 12662 | Abraham G. | Mingle & Graze Gift Card |
| 13080 | Jon V. | d'Vine Gourmet Gift Card |
| 13082 | Krystal T. | Mingle & Graze Gift Card |
| 13415 | Faith R. | Pestos Gift Card |
| 13498 | Tammy S. | Cricut Machine |
| 13531 | Heather P. | Serrano's Mexican Restaurant Gift Card |
| 13533 | David W. | d'Vine Gourmet Gift Card |
| 13534 | Heather C. | Serrano's Mexican Restaurant Gift Card |
| 14522 | Jason B. | d'Vine Gourmet Gift Card |
| 15002 | Pavel G. | d'Vine Gourmet Gift Card |
| 15016 | Brian St. | Peixoto Coffee Roasters Gift Card |
| 15022 | Brian Se. | Serrano's Mexican Restaurant Gift Card |
| 15148 | Luis G. | Peixoto Coffee Roasters Gift Card |
| 15220 | Mark P. | d'Vine Gourmet Gift Card |
| 15268 | Tiffany P. | Cricut Machine |
| 15274 | Michelle M. | d'Vine Gourmet Gift Card |
| 15277 | Jolynn C. | d'Vine Gourmet Gift Card |
| 15283 | Ashley E. | Cricut Machine |
| 15301 | Caroline S. | d'Vine Gourmet Gift Card |
| 15303 | Mayra B. | d'Vine Gourmet Gift Card |
| 15404 | Sarah B. | d'Vine Gourmet Gift Card |
| 15404 | Sumeet T. | Mingle & Graze Gift Card |
| 15414 | Manuel P. | Hangar Cafe Gift Card |
| 15508 | Lara B. | d'Vine Gourmet Gift Card |
| 15570 | Shobha R. | d'Vine Gourmet Gift Card |
| 15846 | Barbara K. | Peixoto Coffee Roasters Gift Card |
| 15979 | Susan G. | d'Vine Gourmet Gift Card |
| 16009 | Rich W. | Hangar Cafe Gift Card |
| 16023 | Adavya T. | Bourbon Jacks Gift Card |
| 16766 | Jason O. | Bourbon Jacks Gift Card |
| 16848 | Shirley L. | Hangar Cafe Gift Card |
| 16867 | Charissa W. | Hangar Cafe Gift Card |
| 17042 | Veronica M. | d'Vine Gourmet Gift Card |
| 17073 | Jocelyn M. | Bourbon Jacks Gift Card |
| 17093 | Marianne P. | d'Vine Gourmet Gift Card |
| 17293 | Troy W. | Bourbon Jacks Gift Card |