The Herbert Family Scholarship
Scholarship Criteria
(1 available)
All six Herbert children were raised in CUSD schools, with at least one sibling graduating from CHS, HHS, BHS, and PHS.  All credit the education they received from CUSD as providing a solid foundation for their post-secondary academic pursuits.  One award of $5,000 will be awarded to a graduating senior who comes from a large family (four or more siblings) and who have achieved a 3.25 or higher GPA.  Scholarship check will be made payable to the attending college or university. 
One (1) award of $5,000. 
     Applicant must come from a large family (four or more siblings)
     Minimum GPA of 3.25
     Applicant must write an essay of approximately 250 words:  

     Introduce your family and explain how being a member of a large family impacts your ability to pursue your academic goals.
The Herbert Family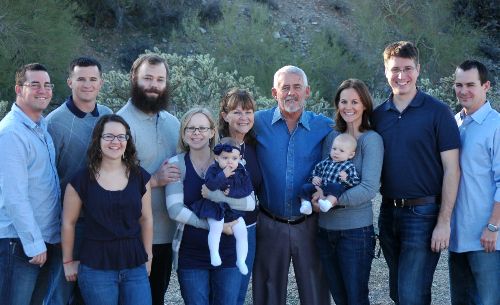 Growing up, we heard the story often.  How Grandpa Herbie, from a large family and without many options, first joined the Navy Air Corp as a teen and then transitioned into the newly formed US Air Force.  After 30 years of military service, including time spent overseas during World War II, in Korea and Vietnam, he retired with his wife and young family.  Well into his fifties, he decided to fulfill a lifelong dream and attended college on the GI Bill.  His proudest achievement, apart from his children and grandchildren, was his college degree - in education of course, which he used in his second career as a 5th grade teacher! 
Growing up, college was never an "if" in our family.  My five siblings and I, despite coming from a far from affluent family, knew we would attend college.  Our parents instilled in us the value of education and a commitment to hard work that enabled all six of us to receive college degrees - including graduate and doctoral degrees.   Even though it took working summer and part-time jobs as well as relying on scholarships, we knew from Grandpa Herbie that a degree was more than a piece of paper.  It was the fulfillment and continuation of a Herbert family dream, as well as the beginning of an opportunity.
This scholarship started with Grandpa Herbie and continued through his own children and grandchildren, and now continues on with you.  We know the hard work and determination it takes to pursue your education - and your dreams.  We applaud your efforts as we welcome you into our family as a recipient, inviting you to continue Grandpa Herbie's legacy of lifelong learning and the pursuit of higher education.