Dr. Howard K. Conley Scholarship
Dr. Conley served the Chandler School District for twenty years in three administrative roles:
• District Superintendent from 1991-1996
• Associate Superintendent from 1986-1991
• Chandler High School Principal from 1976-1986
Dr. Conley received the Arizona State Superintendent of the Year award in 1995. He was credited with improving race relations, student attendance, staff morale and improved test scores.
The Dr. Howard K. Conley Scholarship was started in June, 1996 upon Dr. Conley's retirement from Chandler Unified School District.  A reception was given in his honor and attendees were made aware of the scholarship and it was funded by family, friends and associates.  It has been supported for more than 25 years through the generosity of close friends who see the added value to a Chandler graduate. Dr. Conley passed away in September 2022, this scholarship continues in his memory.
Scholarship Specifics
One award of $1,000.
     Minimum GPA of 2.0
     Pursuit of a two to four-year college or vocational program
     Financial need
     Applicant must complete an essay addressing the following topics/question:

My goals in life and why additional education is necessary to achieve them.
Why a college education at (specific school) will make a difference in my life.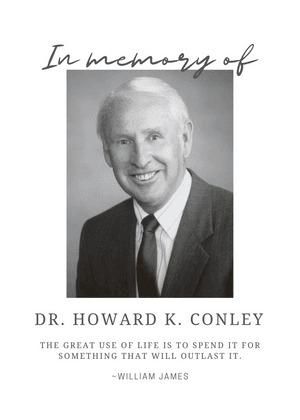 In Memory of Dr. Howard K. Conley
Following Dr. Conley's passing on September 20, 2022, Mrs. Conley has asked that in lieu of flowers, contributions be made to support Dr. Conley's scholarship fund. If you would like to contribute, please complete the donation form below. An acknowledgement card will be sent to the family regarding your donation.